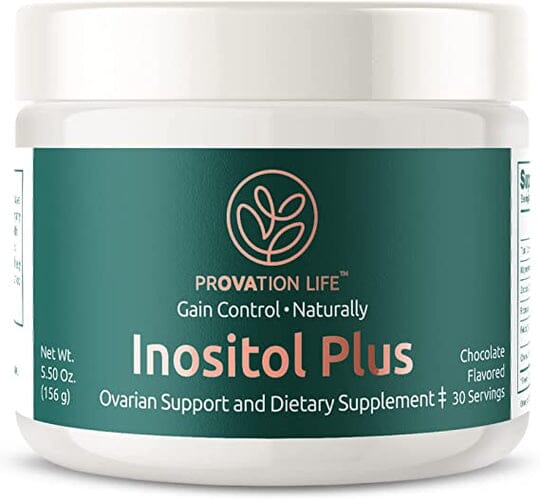 Myo-Inositol Powder Plus 10 Natural Ingredients to Support PCOS & Fertility - 30 Day Supply
Translation missing: en.products.product.price.regular_price
$39.99
Translation missing: en.products.product.price.sale_price
$39.99
Translation missing: en.products.product.price.regular_price
Tax included.
Myo-Inositol Powder Plus 10 Natural Ingredients to Support PCOS & Fertility - 30 Day Supply
Premium Ovarian and Hormonal Balance Supplement for Healthy Ovarian Function
Inositol Plus supplement is a proprietary solution, utilizing active nutraceuticals and a patentable combination of synergistic natural ingredients uniquely designed to support hormonal balance, regular menstrual cycles, and optimal ovarian health.
Inositol Plus is physician-formulated by Dr. Herman Weiss, an OB-GYN expert in hormonal irregularities and reproductive health, to promote healthy ovarian function. Using the best of science and nature, this supplement supports women in regaining control of their hormonal balance, improving their cycles, and regulating their reproductive health for the short, mid, and long term.
Quality Control At Every Stage
Made in the USA in a cGMP registered facility Inositol Plus supplement powder undergoes one of the most rigorous quality control processes in the nutraceuticals industry, including third-party testing for adherence to specifications. Inositol Plus is natural, non-GMO, gluten-free, vegan, and contains no artificial preservatives, colors or sweeteners.
The Provation Promise
Provation Life provides an education-based solution to living a healthier life for women, looking to improve their general medical health, their menstrual health, and emotional health. Often women suffer due to ovarian hormone imbalance and don't know why. At Provation Life, we embrace a holistic approach to health and empower women to live healthier lives by providing free, ongoing educational courses and support to encourage a healthier life and restoration of hormonal balance.
THE ONLY INOSITOL SUPPLEMENT WITH 11 ACTIVE INGREDIENTS TO SUPPORT PCOS & HORMONE BALANCE
Myo-Inositol & Berberine
Myo-Inositol and Berberine for healthy ovulation, and Zinc to contribute to reproduction.
Magnesium
Magnesium to nurture mental resilience and provide overall well-being and psychological support.
Cinnamon & Chromium
Chromium is useful in patients experiencing PCOS to stimulate ovulation. Cinnamon to contribute to metabolism and normal menstruation flow.
* These statements have not been evaluated by the Food and Drug Administration (FDA). These products and statements are not intended to diagnose, treat, cure, or prevent any disease.